Sunday, May 15, 2011
I didn't expect much of this movie but it made me smile upon finishing it. I also didn't expect it to be a musical film cause of the title but i was surprise to hear unique sounds from traditional Chinese instruments and most of all this movie introduced me to
Wang Lee Hom
. After reading his wiki page I was impressed by the fact that his an all around entertainer from a musician to a movie director. Love in Disguise was also his directorial debut. Being a big fan of
Jay Chou
i can't help but compare the two of them. All respect to the two of them.
Summary: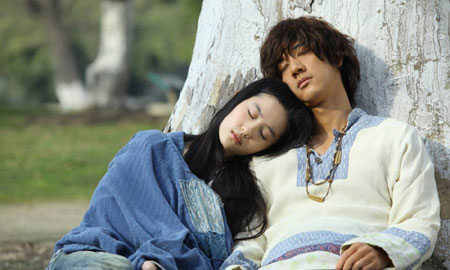 The story is about DMH a famous pop star whose passion for music is overshadowed by his pop image. With this reason he felt a lot of things lacking in his life. Until one day he meets an ordinary college girl
Liu Yi Fie
who plays a Chinese traditional instrument by accident. Hearing the girl play he saw beautiful butterflies flying across the dark night. Bothered by this he decided to look for the girl and disguise himself as an ordinary college student with his friend. Eventually finding the girl he soon fell in love with her and the conflict of him being a famous pop star comes back. Strangled with his ordinary college life and famous pop star status will he be able to show who he really his to the girl he loves.
I'm quit familiar with Liu Yi Fie because Love of the Condor Heroes was shown in the Philippines. She's really pretty and young in that series. She's one of the prettiest Chinese actress I've seen besides Zhang Ziyi.
I'll make another post especially for the Ost because it's worth another post :)